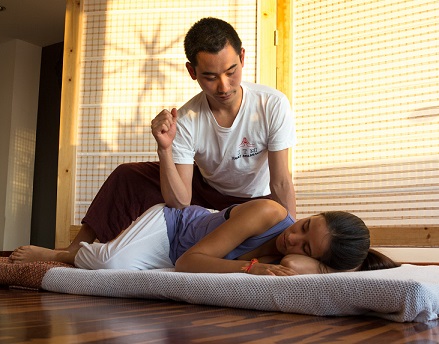 Traditional Thai Massage of 1 hour: S/.100
Traditional Thai Massage of 1,5 hours: S/.140 

Traditional Thai Massage of 2 hours: S/.200
 Package of 5 massages of one hour: S/.450 (to be used within a 3 month period).
Traditional Thai Massage balances the energy of the body, improving its flow and circulation, producing a great sense of well being and release of mental stress.
At the same time, it relieves physical and emotional tension stored in the body, which can turn into pain and contractures. It's also excellent for blood circulation, stimulation and relaxation of the internal organs, enhancement of the flexibility and better posture among other benefits.
In a complete massage (1,5 or 2 hours) we work on the customer lying on his or her stomach, back, sides and in sitting position.  A 1 hour massage, which in Thailand is referred to as a 'quickie' still covers the whole body lying on stomach, back and in sitting position.
Therapeutic Thai Massage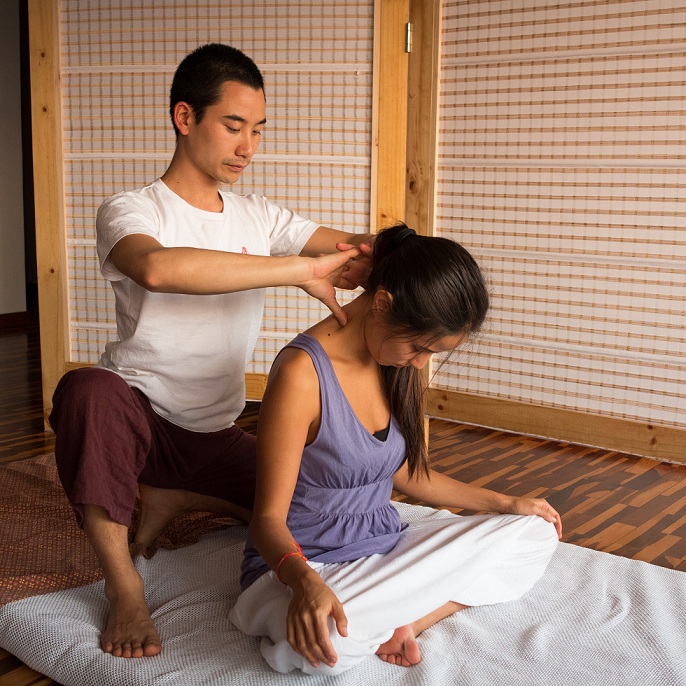 Therapeutic Thai Massage of 1,5 hs: S/.150
Therapeutic Thai massage works by applying acupressure and stretches on specific energy lines and points that are related to a particular problem, thus relieving pain, contractures and tension, and improving range of motion.
Blockages in one part can create problems in related areas that are energetically connected.  Hence the massage is not focused only on the problem area, but also on those energetically related areas.
If you have a specific problem/pain not listed here, please feel free to ask us  (Thai Massage can effectively treat a wide range of medical conditions from early stage of facial paralysis to tennis elbow).
Each of the below mentioned massages takes an hour and a half.
Back
Shoulders
Neck

Legs 
   -Tired legs: Massage recommended as an alternative treatment for the syndrome of "tired legs" or "restless legs"
   -Numbness of the legs
Numbness of the arms 

Knees
Visit us in Barranco – Lima, Peru. Our location.